Compass October 2005
Albert Gallatin Boone – Grandson of Daniel Boone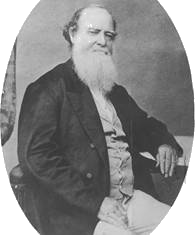 Described by Kit Carson as "a man who isn't afraid of anything"

Albert Gallatin Boone
(Jesse, Daniel, Squire, George Boone)
born 17 or 27 Apr 1806.
The following story is from p. 189, "The Boone Family" by Hazel Spraker.
Married 1st Ann Reid Hamilton of Augusta Co., VA (b. 25 Dec 1811; d. 21 Apr 1842) married 2nd on 20 Jan 1845 Zeralda Randall of Richmond, KY (d. 9 Apr 1851) and married 3rd Kate Phillips of Philadelphia (d. 1882).
Albert Gallatin Boone was appointed by President Buchanan in 1860 to draft a treaty with the Cheyenne and the Arapahoe Indians for the cession of Colorado to the United States. This he succeeded in accomplishing, and was appointed agent over those Indians, but was subsequently removed by President Lincoln on political grounds.
President Grant appointed him Agent for the Kiowa's Comanche's and Cheyenne Indians, and during the Indian Wars seven tribes were placed in his agency. President Grant in his second term appointed Col. Boone and Kit Carson to make a treaty with the Indians by which was ceded to the United States the San Juan County of Colorado.
The same President afterward appointed him to make a treaty with the Sioux Indians for the cession of the Black Hills country to the United States, after which he was appointed by the Secretary of War to locate the same tribe in the valley of the Arkansas and Salt Fork of the Red River.
President Hays appointed him to the Agency of the Ponca Indians. He was a pioneer of Colorado and a leader in Rocky Mountain Explorations.
Children of 1st Marriage:
Infant …………………….b.
20 Apr 1830 d. same day
William Ashley
Boone….. b. 14 Jan 1832
John Hamilton Boone
……b. 5 Jan 1834
Margaret Ann Boone
…….b. 1 Aug 1836
Eliza Yantis Boone
………b. 2 June 1838
Agnes Reid Boone
……….b. 2 Dec 1840
Children of 2ndMarriage:
Mary Boggs Boone
………b. 2 Nov 1845
Minerva Warner Boone
….b. 1 Apr 1848
Martha Randall Boone
…..b. 27 Nov 185?