Boone-Hayes Cemetery
In our goal of supporting the preservation of historical landmarks, an excerpt from:
DANIEL BOONE AND FRONTIER FAMILIES RESEARCH ASSOCIATION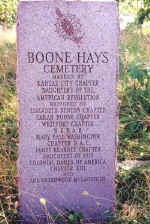 Compass, Volume 3 – Number 2, December, 2000:
"After more than a century of less than due recognition, and after some serious damage to the cemetery caused by lack of upkeep and periodic vandalism, the Native Sons of Kansas City, recognizing the importance of Daniel Morgan Boone , took over the role of protecting the cemetery.  Some years have passed since the Native Sons of Kansas City first took on the cemetery as their project, and the "project" is finally rounding into a perfect conclusion.  The present in-progress effort of the organization is to develop an 8-acre park around and including the cemetery.  The park, which will include a walking trail, benches, and historic markers, will be named, 'Daniel Morgan Boone Memorial Park'.  Presently there are two flat on-the-ground grave markers, one for Daniel Morgan Boone, and one for his wife Sarah Griffen Lewis Boone, as well as a larger granite marker that was erected some years ago by the Daughters of the American Revolution.  The park will become an important permanent recognition for a man considered by some as the first, or one of the first, of the American frontiersmen to explore and settle in what is now Missouri, and as a man who played a major role in Missouri's early frontier and statehood history.  For Kansas City, the park represents a key link in the city's outstanding heritage, connecting back to any important son of one of America's most popular legendary figures, as well as to one of the first American families to settle in what is now Kansas City."
[siteorigin_widget class="SiteOrigin_Widget_Image_Widget"][/siteorigin_widget]
Photo by Seven Spitsnogle, Find-A-Grave https://www.findagrave.com/memorial/6223
George Hicks, a longtime leader of the project with the Native Sons of Kansas City has asked for any and all help that can be offered in he form of monetary donations.  It is essential that we support this important project and make it as successful as possible.  For those who can help, please send your donation to:
The Native Sons of Greater Kansas City
P. O. Box 10046
Kansas City, Missouri 64161-0046
Please mention the Native Sons of Kansas City.  We'll try to follow up later to check on the project's status.
Please direct any questions to Ken Kamper, The Boone Society Board of Directors, KenBeaKamper@Juno.com
Editor's comment:
A few dollars from MANY contributors will help reach the goal faster!